Baby Related Pop Up Cards
Finally, I finished this tutorial for the teddy bear Valentine's Day, birthday, Christmas, and baby shower popup card. I really like this card because it is so versatile. I mentioned in the previous post that you can use this card for other occasions by adding additional clip art parts. For example, for a Mother's day card, you can add some flowers in the bear's hand. You can use the flowers from the template from the Mother's day bouquet card. For a Father's day card, you can put some grilling utensils in the bear's hand. The utensils can be taken from the Father's day grill pop-up card. You can add a graduation cap for a graduation card and maybe put a costume on the bear for Halloween. You can be very creative with this card.
The reason I wanted to make a teddy bear card was for my baby shower. We are going to have a Pink "Bear"y themed baby shower, so my wife wanted me to make some teddy bear cards. I love teddy bears and have a pretty big collection of them. My first teddy bear I adopted was when I was a few years old. I had to make a teddy bear card that I liked. Before I started, I wanted to find see if there were any other good pop up bear cards. I searched and searched and there really wasn't anything out there that I liked. Many of them opened up 90 degrees or weren't cute enough. I've also spent a lot of time thinking of ideas for making a simple teddy bear card. I wanted to make something simple, since I may be making a lot of these for my baby shower. I finally came up with an idea that I really liked. I gave the bear's face and belly some depth by inverting the folds. I was able to try out different shapes and angles using my 3D CAD tool. After I made the first baby shower card, I had to make the Valentine's day, Birthday and Christmas card. So here are some close up images of the cards.
This tutorial is a big long because I'm still getting used to my new video editing software. The video below will show you how to make the teddy bear pop-up card.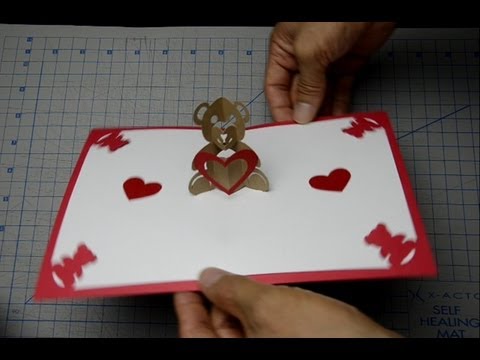 Instructions showing how to make the teddy bear pop up card:
Purchase the template to this design here: Teddy Bear Pop Up Card Template.

Print out the template.  There are 4 pages to this template:

Page 1: Template for the 2-part card. This version is slightly faster to make and cuts the bear out of the same card as the inside card.
Page 2: Template for the 3-part card. This version lets you make the bear and the inside card out of different colored card stock.
Page 3: Template for outside card. This is used for both versions
Page 4: Template for Valentine's day, birthday, Christmas and baby shower clip art.

Determine which version you want to make, the 2 piece of 3 piece version.
Cut out the templates using the methods I've shown in this post: How to use templates to make a pop up card.
Fold the bear in half along the score lines down the center of the bear. Then invert the fold of his belly so that it sticks out forward.
Invert the fold of his mouth and nose so that it also sticks out forward.
Fold the tab in his foot (or feet) forward.
Fold the inside card in half down the center score line.
If you are making the 2-part popup card, then fold the bear up at his attached foot and insert the tab on his other foot into the inside card.
If you are making the 3 part popup card, then insert each tab on each foot into the respective slots.
Fold the outside card cover in half along the center score line.
Insert the inside card corners into the teddy bear corner slots in the outside card cover.
Glue any clip art parts to customize the card.
I hope you enjoyed this tutorial. Please let me know how your cards turned out in the comments!